5 Tips to Survive and Thrive in Dental Assisting School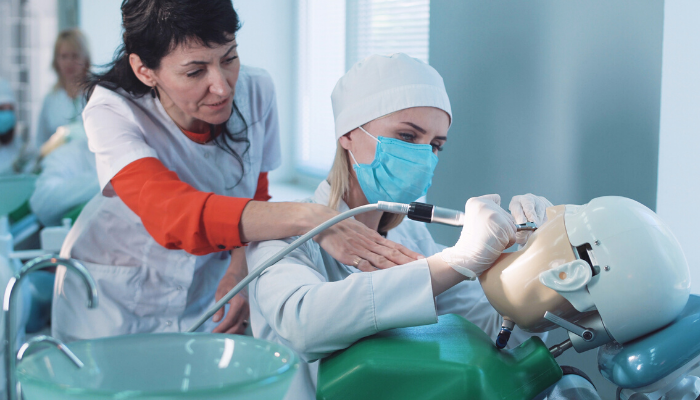 If you're reading this, you may be considering becoming a dental assistant because it's a versatile yet stable career. Dental assisting is perfect for people who want a well-rounded job since their tasks vary depending on the day. Most of them prepare the tools a dentist needs, aid in scheduling, handle administrative tasks, and use their training to ensure the practice runs smoothly.
Before you can become a dental assistant, you'll need to earn your certification. Learn more about dental assisting school below.
How Can I Earn My Dental Assistant Certification?
Dental assistants use their minds and hands every day, so if you're logical, quick-thinking, and hard-working, you'll make an excellent one. Aspiring assistants can become certified by passing the Certified Dental Assistant (CDA) exam. A person is eligible to take this exam once they complete a dental assisting program accredited by the Commission on Dental Accreditation.
If you plan to attend dental assisting school, you'll need to develop a strategy to pass your classes. Follow our top five tips and tricks to thrive in dental assisting school.
1. Never Show up on an Empty Stomach
This tip may sound simple, but you would be surprised to learn how many students show up to class hungry. You won't be able to concentrate on your lectures if all you hear is your stomach growling! Even if you don't have time to eat a full-course meal, you should pack some sugar-free gum and a bottle of water so that you remain alert and engaged.
2. Wear Comfortable Clothes
We understand you want to flaunt your style, but it's best to leave those high-heels or expensive ties at home. Since dental assisting programs are hands-on, you may be on your feet a portion of the day. Furthermore, you don't want the equipment to rip or stain your favorite dress! We also recommend dressing in layers.
3. Ask Questions
We encourage you to ask us to repeat or clarify information if you don't understand a concept. Remember, if you don't understand the material we discuss in class, chances are you won't understand it at home. If you have a question, there's bound to be someone else who shares the same query.
4. Record Your Lectures
Ask your instructor if you can record their lecture using your phone's voice recorder function. If they allow it, you can catch up on subjects you might have missed while writing notes. As a bonus, it keeps your instructor from having to repeat themselves too many times.
5. Get Enough Sleep
Your dental assisting school journey should be fun, not miserable. Skipping out on sleep will have a negative toll on your experience. If you fall asleep during such a fast-paced program, you'll miss out on vital information, resulting in demotivation.
Ready to Thrive? Contact Dental Fundamentals School of Dental Assisting
If you have what it takes to become a dental assistant, you should enroll in the Dental Fundamentals School of Dental Assisting. We don't just tell you how we show you and then allow you to practice alongside our experienced instructors. Our fast, 10-week program sets us apart from other dental assisting schools.
Our campus is located in Salt Lake City. Schedule a campus tour today.