Is Dental Assisting School Really Necessary?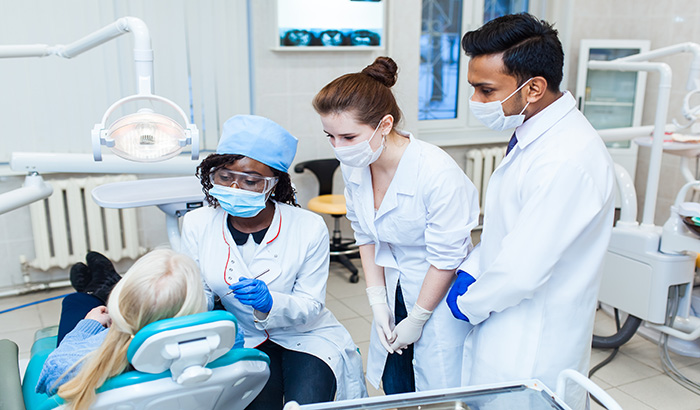 If you're considering becoming a dental assistant, you may be wondering, is dental assisting school really necessary?
Dental assisting is a lucrative profession, and according to the U.S. Bureau of Labor Statistics, the employment of dental assistants is projected to grow 7 percent from 2019 to 2029, much faster than the average for other occupations. While it's obvious that dental assisting could be a promising and practical career choice, do you have to go to school to become one?
Let's weigh the pros and cons of getting your dental assisting certification.
What Are the Benefits?
The biggest benefit of dental assisting school is that you will learn the necessary skills to become a dental assistant, like how to operate x-ray equipment, prep patients, handle dental instruments during procedures, and much more. These are skills you can only gain with hands-on training from a competent and experienced instructor.
Many states require that dental assistants complete a certification program before they can begin working in the profession. Check your state's guidelines to see whether or not schooling is a requirement for you.
Even if your state doesn't require you to be certified, becoming a certified dental assistant will give you a definite advantage in the job market over uncertified applicants. Your certification shows that you have relevant experience in the profession and are committed to your career in dental assisting.
Certification in dental assisting can also help prepare you for future growth within the dentistry industry, whether your goal is to become an office manager or dental hygienist.
What Are the Cons?
As with any education program, dental assisting school takes time and hard work to complete. There are a number of fundamental principles that you will need to learn in order to become a successful dental assistant.
Dental assisting school also costs tuition money; however, once they have completed their certification, dental assistants make more than the average median wage in the United States.
Fortunately at Dental Fundamentals, we offer accelerated programs at affordable tuition rates. Additionally, we offer scholarships and in-house financing programs so that you can pay your tuition in your own time, no matter what your financial situation may be. We value our students' passion and commitment to their career goals, and we want to help them to succeed.
Contact Dental Fundamentals School of Dental Assisting
It is clear that if you want to become a successful dental assistant, then dental assisting school is a vital part of the process; however, that doesn't mean you need to sacrifice much of your time. Here at Dental Fundamentals School of Dental Assisting, we offer training in a real dental setting that can be completed in as little as 10 weeks in order to get you pursuing your dreams faster. We have a comprehensive program and enthusiastic instructors who are eager to help you succeed. Contact us today to schedule your free tour, our campus is located in Salt Lake City, Utah, and we serve students from the local areas of Salt Lake City, West Valley City, Murray, Layton, and more.