The Best Dental Assisting School in Utah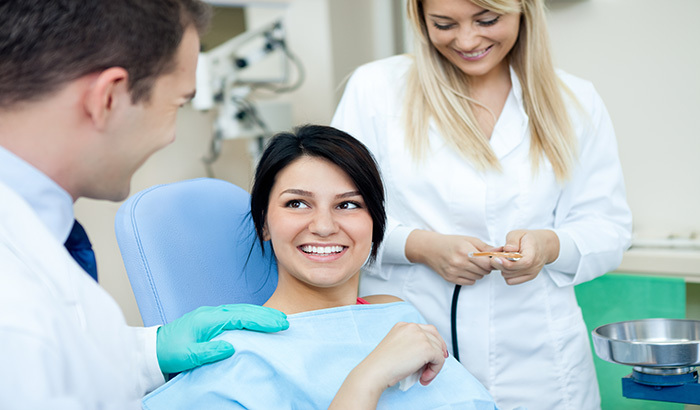 Dental assisting school has become a popular career route thanks to all the potential job prospects.
The field attracts dedicated individuals with sharp communication skills and interpersonal skills. 
Here at Dental Fundamentals, we pride ourselves in taking great care of our passionate students. Continue reading to find out how our program is the best fit for you. 
What is Dental Assisting?
Dental assistants are key members of the dental team. They work with patients, dentists, and other assistants, as well as completing behind-the-scenes procedural work and preparation. Dental assisting is a well-paid job in a competitive and professional industry. The job is stable and has a positive career outlook for the foreseeable future. 
How to Choose a Dental Assisting School 
When choosing a dental assisting school, you should consider your long-term aspirations. Dental assisting often provides a springboard toward a successful career in the industry, so choosing an extensive training program is essential. At Dental Fundamentals, we are proud to provide: 
Comprehensive, hands-on training
Flexible programs
Job placement tools and resources 
The Responsibilities of a Dental Assistant 
Dental assisting comes with an array of job responsibilities from office management to patient care. Their duties can vary state-by-state, but generally include: 
Preparing patients and the work area for treatments and procedures
Sterilizing dental instruments
Handling instruments during dental procedures
Taking and developing x-rays and other lab tasks
Keeping records of dental treatments
Scheduling appointments
Working with patients on billing and payment 
Dental Fundamentals Will Prepare You for These Responsibilities 
At Dental Fundamentals, we are pleased to provide one of the most hands-on curriculums available. Upon successful completion of the program, students will be able to: 
Perform basic chairside assisting techniques
Understand and perform aseptic techniques and management of hazardous materials
Identify and utilize instruments, materials, and equipment
Process digital dental radiographs
All other basic dental assisting duties 
Dental Fundamentals Will Work with Your Schedule 
We understand that finding the time to go to school can be difficult, especially if you have a job and a family to take care of. Here at Dental Fundamentals, we offer a flexible program that only takes 10 weeks to complete. You don't have to worry about the inconvenience of semesters or dedicating your whole day to schooling. We only require our students to attend two evening classes per week, making it incredibly flexible with the many other commitments you have going on in your busy life. 
Dental Fundamentals is Affordable 
Dental Fundamentals can place you in a better situation than a traditional, four-year university at a fraction of the cost. We offer competitive tuition pricing that puts certification well within your reach, regardless of your budget. Financing and scholarships are available, and most of our students find high-paying jobs upon completion of our prestigious program. 
Contact Dental Fundamentals School of Dental Assisting 
When choosing a dental assisting school, Dental Fundamentals makes the decision easy. With a flexible schedule, affordable tuition, and hands-on training, we're proud to be your best choice for dental assistant training in the state of Utah. Our passion is our students, and we ensure that you will walk away with the skills and experience necessary to thrive within the industry. 
Our campus is located in Salt Lake City, Utah. We service local students from the areas of West Valley City, South Jordan, Murray, Layton, Ogden, and more! Schedule your free campus tour today.